Description
D-tek s.a. has developed automated systems and software for the processing of enzyme immunoassays; the systems also function as an assistance in the interpretation of results.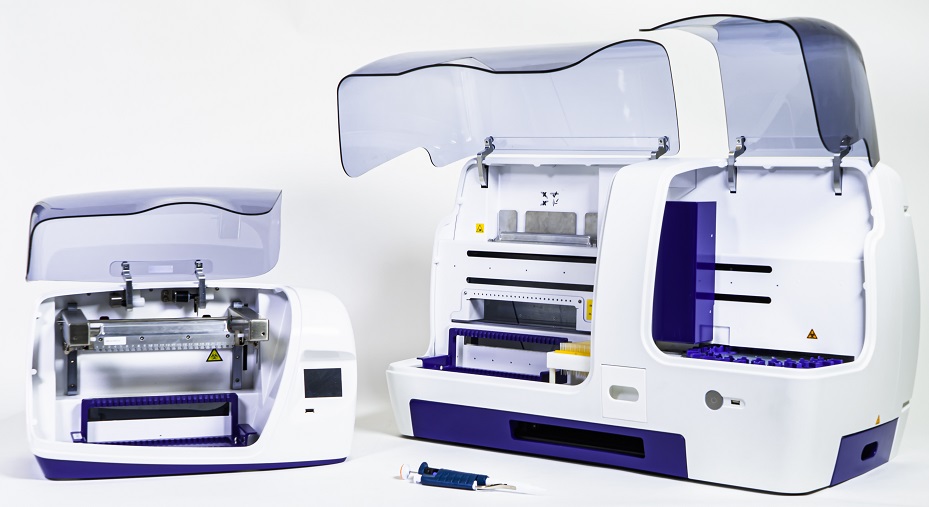 BlueDiver Instrument
The BlueDiver Instrument is a compact and innovative machine designed to process nitrocellulose strips in ready-to-use cartridges containing the different reagents.
The instrument is a "no pump, no liquid handling" automate, presenting many advantages: time-effectiveness (results are obtained in only 1 hour), maintenance reduction (no pumps/tubes maintenance or replacement), space-effectiveness (the BlueDiver Instrument is as compact as a microwave).
In addition, the BlueDiver Instrument's specific built and its standardised test procedures allow the testing of 24 either similar or different samples as well as the combination of different test strips in one same run. This advantage, combined with the saving on time, gives the user in the laboratory a unique and optimal flexibility.
BlueDiver Instrument II
The BlueDiver Instrument II has the same features as its predecessor, while adding a series of unique advantages.
Firstly, the BlueDiver Instrument II provides full traceability, from sample barcode identification to final result interpretation.
Secondly, the sample pipetting is performed by the BlueDiver Instrument II automatically, based on tests encoded by the user. All pipetting steps are performed using disposable tips, avoiding any possible contamination.
Finally, the BlueDiver Instrument II has an integrated strip drying module, which allows the strips to be dried in less than 10 minutes.
The BlueDiver Instrument II integrates the BlueScan Scanner and Dr DOT software for reading and interpretation of results.
BlueScan Scanner et logiciel Dr DOT
The Dr DOT software is a multilingual package allowing an easy, semi-quantitative interpretation of BlueDot, BlueDiver Dot and BlueDiver Quantrix kits. It requires only a computer and a BlueScan scanner.
The BlueScan Scanner is a flatbed scanner dedicated to the interpretation of strips. The scanner contains an internal standard scale allowing the scanner to be calibrated at any time.
The Dr DOT software contains a database that stores all recorded results (numerical values and scanned images). The user can retrieve a specific result through a multi-factor search. The Dr DOT software can import or export data in CSV (Comma Separated Values) and LIS (Laboratory Information System) format, and final results can be sent by e-mail (Outlook or Outlook Express), printed and saved in pdf format.
Once installed on the computer, the software runs free of charge for a 30-day evaluation period. After that, the user has to register. The registered licence is valid indefinitely and allows free of charge updates of the software.